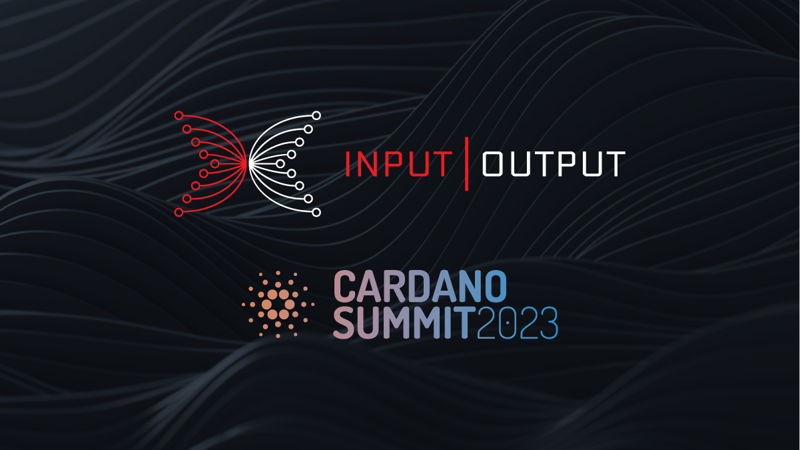 The Cardano Summit is kicking off in Dubai this weekend (November 2-4), where the IOG team is looking forward to meeting attendees, including Cardano community members, to showcase and discuss some of our products and services.
With a commitment to transforming the world's digital infrastructure, IOG's peer-reviewed research and thoughtful approach to architecting solutions that leverage the inherent benefits of blockchain – trust, data protection, participatory governance, and beyond — will be on full display. Besides taking part in and delivering keynotes, panels, and masterclasses spanning the event, members of the IOG team will be hosting visitors at its dedicated booth.
The theme of blockchain governance will take center stage, as the Cardano community continues its journey of inclusive community empowerment and decentralized decision making in the age of 'Voltaire', the name given to Cardano's extensive governance transformation now fully underway. Taking inventory on the lessons learned as an active participant and one of the pioneer entities within the Cardano ecosystem, the focus on the main stage and pitch arena events will outline some of the ways IOG is contributing to this evolution, headlined by Charles Hoskinson's Day 1 keynote 'Cardano: Past, Present, and Future', where he will reflect on the Cardano journey so far, while looking ahead to a new age of community governance and new technologies to drive further adoption and interoperability.
As part of the company's passion for making blockchain education accessible, the organization is leading a number of masterclass sessions, helping to make the onboarding process easier for anyone looking to build on Cardano. The team behind Marlowe, the company's set of open-source tools and languages for developers to create, execute, and integrate smart contracts on the Cardano blockchain, will also be in attendance and host several workshops. Hydra, IOG's scaling solution, will also feature, alongside Mithril, a stake-based signature scheme for boosting network speed and efficiency.
Other sessions will dive into the world of participatory governance, expanding on the work the member-based organization Intersect has been championing, while giving attendees a first look at Project Catalyst's upcoming Fund11, powering grassroots innovation on Cardano.
Hot on the heels of IOG's presence at community events Rare Evo and NFTxLV, the Summit will be another opportunity for Cardano enthusiasts to learn more about Lace, the company's secure, decentralized light wallet platform designed for anyone who wants to be part of the Web3 space to take control over their financial freedom. Lace offers a friendly and easy-to-use experience to its users who want to transact, stake, delegate their vote, own their identity, grow their business, and connect with decentralized applications.
For more information on all of the sessions at the Cardano Summit, please visit summit.cardano.org/agenda, and for more information about IOG, check out the IOG event website at iohk.io/cardanosummit2023.