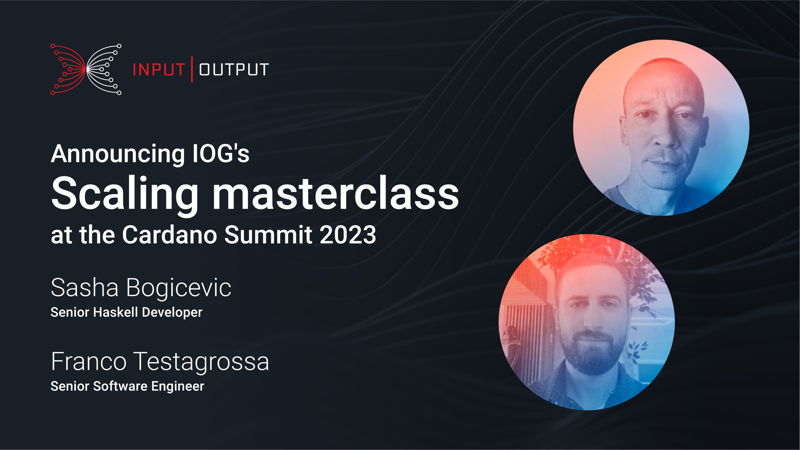 This year's Cardano Summit in Dubai will be jam packed with keynotes, panels, and masterclasses that you won't want to miss. One of the event's highlights will be the 'Developing Hydra and Mithril for Scaling Cardano' masterclass, by Input Output Global's (IOG) Scaling tribe.
The team's presentation will focus on Mithril and Hydra, IOG's foundational scaling solutions. Read on to learn more about this upcoming event and how to join.
Mithril, Hydra, and IOG's Scaling tribe
The Scaling tribe builds and maintains the technological foundations that enable custom solutions for scalability and security on Cardano. Mithril streamlines data synchronization between decentralized applications (DApps), while Hydra – a layer 2 scalability solution – minimizes transaction costs and increases transaction speed by reducing latency and boosting throughput.
What the masterclass covers
Sasha Bogicevic, senior Haskell developer on the Hydra team, and Franco Testagrossa, senior software engineer will present the masterclass, which:
shows how the Hydra and Mithril projects can be used together to start a Head protocol
demonstrates DApp examples using Hydra and Mithil
engages and provides useful information to DApp developers
presents the tribe's roadmap and gives visibility on funded Catalyst proposals
demonstrates how to run the Hydra Head protocol.
Attend the masterclass and join the community
The masterclass will take place on Friday, November 3, from 14:00 to 15:30 (GST) at the Grand Hyatt Dubai Conference & Exhibition Centre. Registration to attend is open from 9:00 to 10:00 (GST), and masterclasses will not be live-streamed. We look forward to seeing you at the Summit.
Join our growing community of builders on the Hydra and Mithril Discord servers.