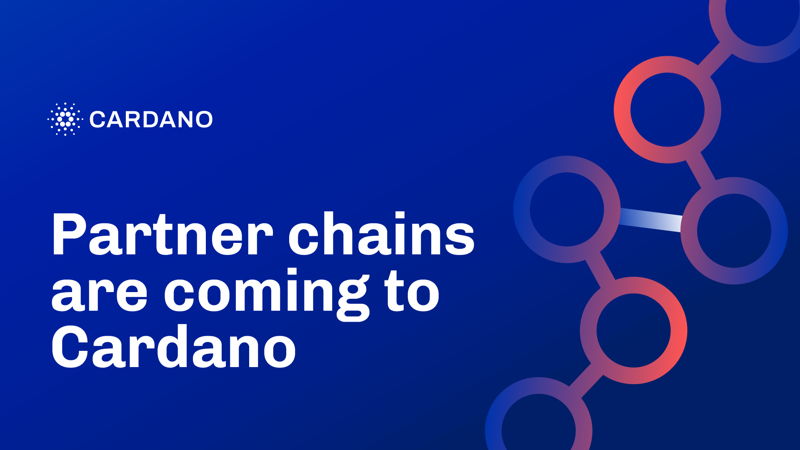 At this week's Cardano Summit 2023, IOG founder & CEO Charles Hoskinson outlined a new framework that will offer new ways for developers and validators to utilize Cardano's core strengths – and some exciting new Cardano technologies – to build their own optimized partner chains.
Partner chains will revolutionize how new blockchains are launched and operated by combining modular blockchain technology with Cardano's proven security, liquidity, and reliability. Partner chains will gain these benefits without the lock-in of any network or technology stack.
Since the 'Why Cardano' whitepaper and the original whiteboard video – now viewed nearly two million times – interoperability and scalability have always been core to Cardano's mission. Partner chains are a continuation of that original Cardano vision.
Cardano is designed with a separation of the Cardano Settlement Layer (CSL) from the Cardano Computation Layer (CCL). The CSL has proven to be robust and scalable, forming the ultimate cross-chain settlement layer. With partner chains, networks will have the power to build their own computation layer leveraging a modular framework and existing components, yet still leveraging the CSL for settlement across chains. Midnight, the recently announced IOG data protection-focused blockchain, will be the first partner chain to implement this new framework.
A modular framework
Charles Hoskinson's exposition at the Cardano Summit 2023 is the culmination of over four years of research and development by academics and engineers across the world, and also extensive technical exploration and experimentation. IOG is drawing upon Parity Technologies' Substrate stack, a proven open-source modular framework, as a base, extending it with trustless integration to Cardano, and contributing a set of composable Substrate components (known as 'pallets') to unlock the potential of partner chains.
IOG has long shared common ground and had respect for the modular technology the Substrate team has developed. Illustratively, the BABE protocol draws upon Ouroboros Praos, validating a shared trust in fundamental research. Taking this modular approach with Substrate will enable partner chains to implement any consensus protocol, satisfying Minotaur's requirements to enable partner chains to leverage specific combinations of resources for their consensus. Hence, Substrate's open-source code is highly complementary to Cardano's stack and aligned with our common vision for a world of interoperable blockchains. IOG is investing heavily in developing its new partner chain framework, utilizing its worldwide team of researchers, engineers, and developers and is looking forward to pursuing collaborative open-source opportunities across the blockchain space.
Partner chains solve key problems of existing modular blockchain solutions: interoperability, security, tokenomics, and lock-in. With partner chains, Cardano becomes the ultimate settlement layer and more. Security is provided by Cardano's SPOs, while the Minotaur multi-resource consensus protocol will allow validators from other blockchain ecosystems to contribute. Babel fees will solve tokenomics issues for new networks while allowing SPOs to be compensated in ada. Trustless bridges will connect partner chains to Cardano and beyond for risk-free interoperability.
Partner chains represent a new approach to interoperability and blockchain networks, powered by Cardano. Follow IOG social channels to stay updated. We'll continue to share details as this framework is further developed and implemented.