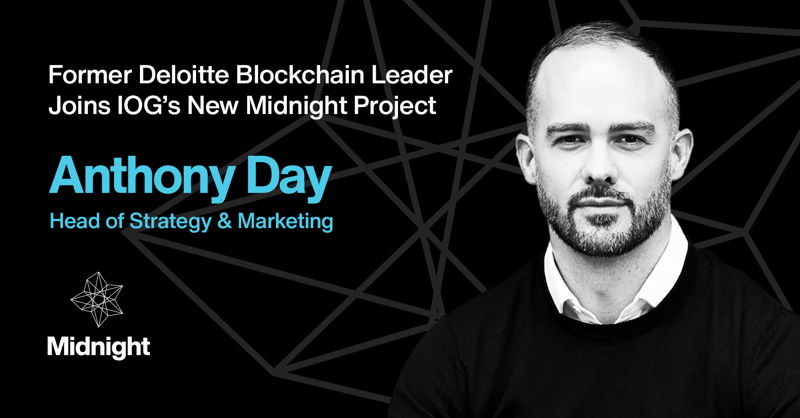 Today, Input Output Global (IOG) is delighted to announce the appointment of Anthony Day as Head of Strategy & Marketing for Midnight, our new data protection-focused protocol.
Day has previously held leadership and advisory roles at IBM, Deloitte, Parity Technologies, and Hedera Hashgraph, bringing experience in a wide variety of different deployments of blockchain technology, from supply chain management to business operations, sustainability, and healthcare.
He also hosts the Blockchain Won't Save the World podcast, which tells the stories of people using blockchain to drive real world change.
The announcement comes in a series of high-profile hires for the company, including the hire of Symphony's former COO and FINOS Founder, Eran Barak, as CEO of Midnight, and Dr. Vanishree Rao as its head of applied cryptography to lead the practical application of existing research, while exploring untapped innovations with the technology to further develop our zero-knowledge proof expertise.
In his new role, Day will take charge of the overall marketing and go-to-market strategy for Midnight, a new blockchain protocol announced at the end of last year.
Midnight is being built to integrate principles and integrity into global scale applications. Targeted at developers, companies, governments, and individuals, Midnight utilizes a novel data protection-first programming model to allow users to operate more safely and securely. The platform will use zero-knowledge cryptography (ZK Proofs) and a combination of private and public computation to create a trustless ecosystem that safeguards sensitive personal and commercial data, while meeting compliance needs. Use cases could include anything from financial workflows to healthcare records and supply chain activities.
Midnight will operate as a sidechain of the popular Cardano blockchain, inheriting its security and decentralized qualities, while significantly extending Cardano's utility to open up valuable new use cases for individuals and organizations looking to transact, publish, or share sensitive data.
Following Day's appointment, Midnight CEO Eran Barak said: "Public blockchain technologies empower use cases with new paradigms of trust and exchange, yet the absence of data protection and regulatory support continue to impede adoption. Midnight is bringing enterprise-grade blockchain capabilities that meet business needs, while providing users with the trust that enables freedom of association, commerce, and expression.
Bringing in an experienced blockchain industry veteran like Anthony, who has worked across large enterprises, and is passionate about driving meaningful change through technology, is a huge win for the project."
Day also spoke about his vision for the Midnight project: "We've long talked about the promise of blockchain in solving data privacy challenges at-scale, but up until now there hasn't been a project which has delivered on this vision. Midnight has the true potential to help individuals, developers, companies, and even governments protect some of humanity's fundamental freedoms.
Not only this, but there is no element of gatekeeping or exclusivity for this vision. Midnight is being designed in a way that the software can be used by anyone to develop applications that allow people to share mission-critical information without the fear of leaks or censorship, or to safely share sensitive information when operating in a connected world."