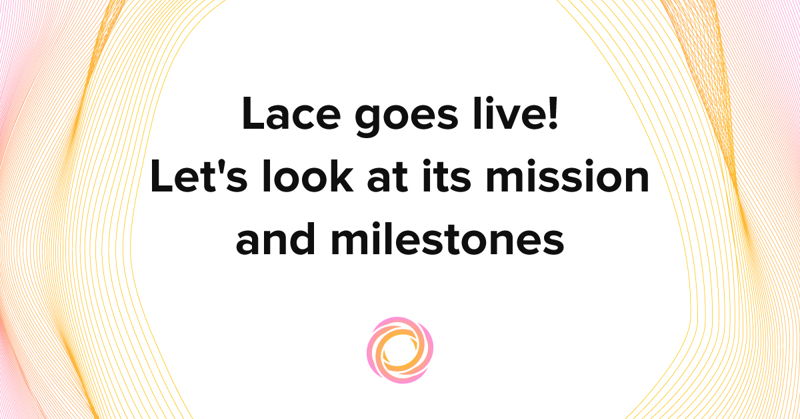 The world of Web3 is an ever-expanding universe of decentralized identity, decentralized apps (DApps), and decentralized finance (DeFi). While the technology keeps evolving, the user experience remains somewhat complicated.
Enter Lace, the new Web3 wallet platform from Input Output Global (IOG). Built with a vision to become multi-chain and make the Web3 experience accessible and simplified for all, Lace seeks to redefine how users interact with Web3.
Read on to learn about Lace's journey and its core objectives.
Lace's journey to mainnet readiness
During the 2021 Cardano Summit, Project One, – now known as Lace – was presented as a light wallet concept to fill a space in the blockchain world. However, soon after, the team at IOG realized that Lace could be an immersive Web3 platform. Lace underwent research and found the right team to implement and promote the right tech.
To ensure Lace met the highest standards of security, scalability, and quality assurance, the Lace team hired an external auditor and leader in blockchain security, FYEO, to conduct a series of audits and code review of the platform. With FYEO's approval, IOG's developers conducted closed data testing to fine-tune the platform's features and functionalities.
In 2022, excitement for Lace grew as the Lace team presented the platform at Cardano community events, including Consensus, Rare Bloom, and IO ScotFest. The response was overwhelmingly positive.
To ensure that the product was ready for a larger audience, Lace underwent a beta testing program conducted by cohorts of randomly selected users to provide input on how the team could improve Lace's user experience. As feedback came in, the Lace team continued to refine the platform until it was launched in a PreProduction testing environment for the wider Cardano community to try out.
Finally, after months of hard work and fine-tuning, the mainnet launch of Lace 1.0 has arrived. The platform is launching with key wallet features, but there's more to come - subsequent versions of Lace will hold more features, building on the foundation laid by the Lace team's tireless work and commitment to excellence.
Lace's core objectives
Lace is more than just a digital wallet for your assets. Its identity-centric and interoperable vision seeks to bring the Web3 ecosystem together and realize IOG's Real Finance (RealFi) goal to empower individuals and businesses in emerging markets.
Security, scalability, and quality assurance
Lace delivers fast transactions, without compromising security, maintaining IOG's commitment to evidence-based software development and peer-reviewed research. Lace's security assurance allows decentralized developer communities to build safely in Web3.
A seamless Web3 experience
Lace is your Web3 hub that will bring digital assets, DApps, DeFi, and RealFi together on a Chrome-only browser extension. Lace desktop and extensions for other web browsers will come soon.
Creating value globally
Lace's intuitive and friendly UI/UX makes it easy to explore Web3 through:
Clear instructions and toned down jargon for blockchain newcomers
A library of free resources to inform, educate, and expand your knowledge
An offline feature that allows users to access their wallet at all times
These features facilitate access to RealFi, creating value and opportunity globally with fair financial and identity management for those who can't currently access them.
Get Lace now and join a growing community
Lace is now live on mainnet, giving you access to a host of exciting features in your Web3 journey.
Visit the Lace website to:
Add Lace 1.0 to your Chrome browser.
Join Lace's Discord channels to engage with the team and community.
Register to receive news and updates on all things Lace.